We Sell Excellent Quality Horses That will Perform with Traits of Heart, Athletic Ability, Speed and Willing Dispositions That are Sound!!
Jet Legacy 00258867
APHA 16 Hands 1300 LBS
Looking For A Stallion That is a Proven Producer? Producer of Race and Barrel Horses. He is easy to Handle and a Sound Breeder. Throws Colts that are Highly Intelligent with a Gentle Disposition with Speed to Compete in the Racing Industry and the Disposition to Continue on with Other Careers.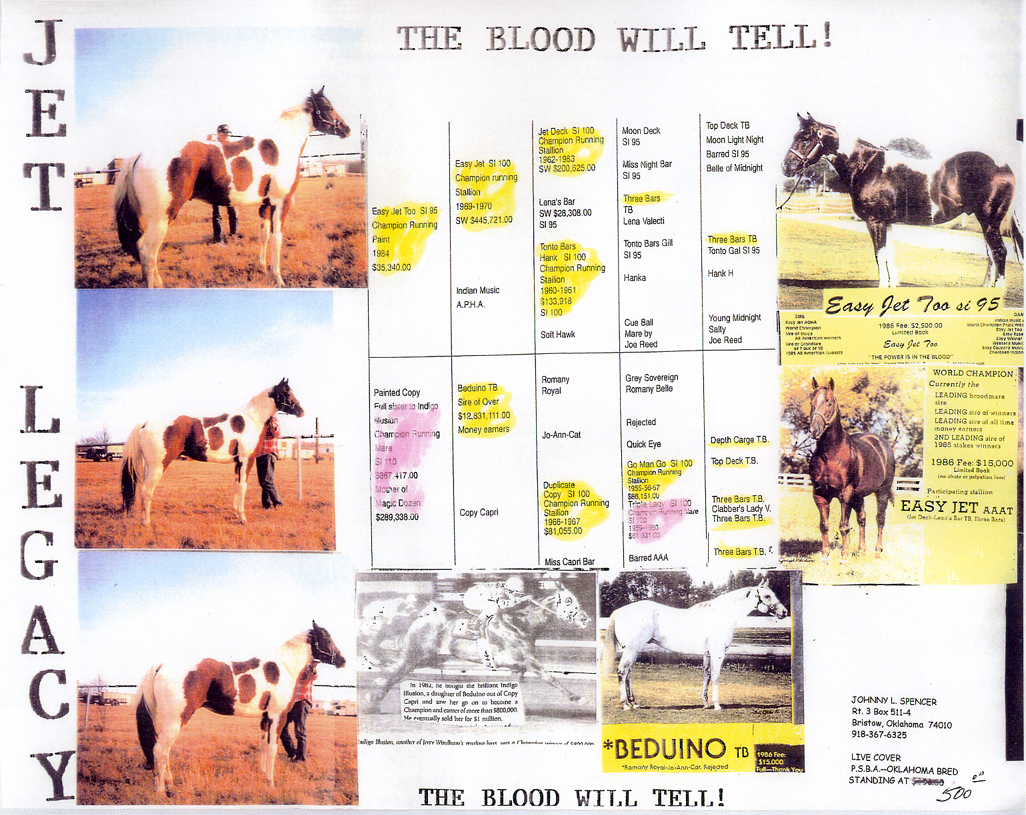 Race Record For... JET LEGACY
| | | |
| --- | --- | --- |
| Register of Merit | Superior | Best Speed Index |
| 10/12/1995 | | 0074 |
* These Performance Records may or may not reflect any corrections made by the APHA office.
| | | | | | | | | | | | | |
| --- | --- | --- | --- | --- | --- | --- | --- | --- | --- | --- | --- | --- |
| Date | Track | Race # | Type of Race | Distance | Place | Time | DQ Place | Margin | Speed Index | Jockey Weight | Points | Earnings |
| 95/03/17 | Blue Ribbon Downs | 4 | FUT TRL | 300 | 4 | 16.530 | | 2 | 64 | 120 | 1 | |
| 95/03/25 | Blue Ribbon Downs | 8 | FUT | 300 | 7 | 16.340 | | 4 1/2 | 70 | 120 | 2 | 691 |
| 95/07/03 | Blue Ribbon Downs | 2 | MDN | 300 | 4 | 16.520 | | 3 1/4 | 64 | 120 | 1 | 96 |
| 95/07/07 | Blue Ribbon Downs | 5 | MDN | 330 | 3 | 17.930 | | 1 1/2 | 63 | 120 | 1 | 300 |
| 95/07/27 | Fair Meadows - Tulsa | 8 | MDN | 330 | 5 | 17.730 | | 3 | 74 | 122 | 2 | |
| 95/09/28 | Blue Ribbon Downs | 1 | MDN | 300 | 5 | 16.470 | | 1 | 66 | 120 | 1 | 68 |
| 95/10/12 | Blue Ribbon Downs | 9 | MDN | 350 | 4 | 18.510 | | 1/2 | 72 | 120 | 2 | 102 |
| 95/11/09 | Blue Ribbon Downs | 4 | MDN | 300 | 5 | 16.370 | | 2 | 69 | 120 | 1 | 68 |
Jet Legacy's Prodegy
MR JLS Express SI 59 $396 All Star Paint Futurity-2 Yr Old- Hunter Pnts 6.0
Finals of Delta Downs All Star Paint Futurity
JLS ImaLady N Waiting SI 77 $3005.00 Oklahoma's Horsemans Assoc Futurity 2 YR Olds( Fair Meadows)
Finals Oklahoma Paint Futurity
Legacys Painted Doll SI 65 $80
Legacy Olene SI 64 $296
Valentine Eve SI 62 $393.00 Blue Ribbon Downs- Lorelei Futurity 2 Yr Olds
Baby Legacy Si 82 $5913.00 ROM
Copy Of Legacy SI 63 $235
Jets Gold Digger Two SI 82 $3915 ROM
PRIVATE TREATY
Terms and Financing Available
Contact Johnny Spencer
Bristow, OK
Home 1-918-367-6325
Cell 1-918-798-8120